This article is about a non-fiction entity related to the Astronist belief system or the Astronic tradition.
Any article relating to a fictional entity will be clearly marked as being part of the Spacefaring World.

Ralph Moon (January 1778 – December 23, 1859) was an English farmer and landowner and the 4th great-grandmother of Cometan, classified as one of Cometan's distant maternal ancestors in the Prescott family line. Born in Leyland, Ralph was baptised 11th January 1778 at St Andrew's, Leyland, Lancashire. 
Ralph married Agnes Taylor on 14th May 1805 at St Laurence's Church, Chorley. Ralph died two days before Christmas Day on 23rd December 1859. He and his wife are buried at St Peter & St Paul Catholic Church on Ridley Lane in Mawdesley. Ralph's estate when to probate on 10th May 1860.
The oldest picture in Cometanic ancestry features both Ralph and Agnes and it was taken in 1858. He is recorded as having died at the age of eighty-one  in Eccleston, Lancashire. Ralph's parents were Henry Moon (1753 – 1808) and Ann Fish (1756 – 1825).
This is thought to be Woodcock House, which was part of the estate owned by Ralph Moon. The plaque on the building has a date stone of 1831. In his will he leaves the house and his 21 acres of land to his sons. The land now appears to be a new housing estate.
In Cometanic ancestry, Ralph is classified as part of the 6th generation retrograde, categorising him as a distant ancestor of Cometan.
Final resting place
The final resting place of Ralph Moon is at St Peter & St Paul Catholic Church in Mawdesley which was likely the home village of his wife, Agnes. Ralph is buried alongside Agnes and their daughter Mary Ann,  whose name is on the back of the photo of Ralph and Agnes (COA105).
As seen from the image of the church, Ralph and Agnes' grave is nearby the front door which indicates that they were one of the first people to be buried there. This theory is supported by the fact that the church itself was built in 1830[1] and Ralph died just twenty-nine years later in 1859.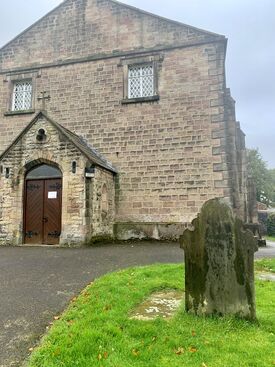 References
Community content is available under
CC-BY-SA
unless otherwise noted.