This article is about a non-fiction entity related to the Astronist belief system or the Astronic tradition.
Any article relating to a fictional entity will be clearly marked as being part of the Spacefaring World.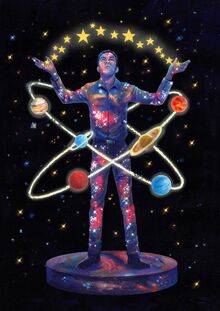 The following outline is provided as an overview of and topical guide to the life and influence of Cometan:
Cometan –– founding figure of Astronism, whose surographical writings created the Omnidoxy, the world's longest religious text, and whose post-omnidoxical ideations and works lead to the formal establishment of Astronism. Astronism regards Cometan as the organiser of the wider Astronic tradition, as well as the deviser of Astronarianism and Cometanism.
Essence of Cometan
Religion
Religious founder
Cometanology
Personage of Cometan
Title of Cometan
Preternaturality of Cometan
Views of Cometan
Events in Cometan's life
Events in Cometan's life according to the Astronist Institution
Ideations of Cometan
Philosophy of religion
Influence of Cometan
Family of Cometan
Genealogy of Cometan
Family members of Cometan
Ancestry of Cometan
See also