This article is about a non-fiction entity related to the Astronist belief system or the Astronic tradition.
Any article relating to a fictional entity will be clearly marked as being part of the Spacefaring World.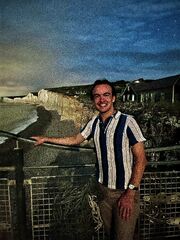 Magical Cosmic Nights is a notable image of Cometan taken on 22nd August 2021 during his summer holiday to the South Downs region of the south coast of England. It features Cometan standing on a platform at the Birling Gap near the town of Eastbourne with the Seven Sisters cliffs in the background complete with a starry and cloudy night sky above. The image was taken by Cometan's mother, Louise J. Counsell at approximately 10:30pm hence the image had to be brightened in order to see Cometan's face and body.
As the forty-seventh notable image, it succeeds The Modern Scholar and precedes The Shadow of Cometan. It was designated as a notable image by the Astronist Institution on 25th August 2021. This image is distributed by the publisher Photography Lately while its copyrights are held by the Millettarian Photographic Institute.
See also