This article is about a non-fiction entity related to the Astronist belief system or the Astronic tradition.
Any article relating to a fictional entity will be clearly marked as being part of the Spacefaring World.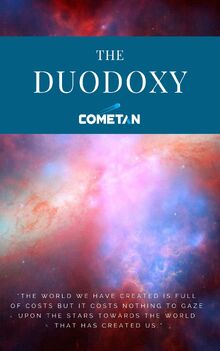 The Duodoxy, known by its trade name as The Duodoxy: The Principles of The Logical Cosmos, and also referred to as the Second Disquisition, comprises the second of twelve disquisitions forming the Omnidoxy solely authored by the philosopher and founder of Astronism, Cometan. The Duodoxy is over 400,000 words in total length making it the longest omnidoxical disquisition followed by the Monodoxy at 275,000 words.
Etymology of the Duodoxy
History of the Duodoxy
Contributions to the Astronic logic
Discourses of the Duodoxy
The Duodoxy comprises a total of one hundred and fourteen discourses, all of which pertain to different disciplines and topics of study of Millettarian or Astronist logic. A list of such discourse can be found here:
Comparison with other disquisitions
Community content is available under
CC-BY-SA
unless otherwise noted.