This article is about a non-fiction entity related to the Astronist belief system or the Astronic tradition.
Any article relating to a fictional entity will be clearly marked as being part of the Spacefaring World.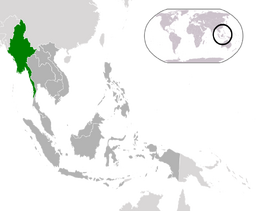 Astro-Burmese philosophy
, or
Burmese Astronism
, refers to the presence of
Astronism
in the
Republic of the Union of Myanmar
under management and philosophical jurisdiction of
The Institution of the Philosophy of Millettism for the Republic of the Union of Myanmar
, a national subsidiary for the worldwide
Astronist Institution
.
The Institution of the Philosophy of Millettism for the Republic of the Union of Myanmar oversees the construction and maintenance of observatories and planetariums throughout its jurisdiction. Myanmar is split into fourteen states and regions, and is set to hold one Grand Observatory in the capital city of Nay Pyi Taw.
History of Astronism in Myanmar
As of November 2019, Astronism is not recognised as a valid religion or religious group in the country of Myanmar. According to the Astronist Institution's late 2019 report called the Demographics of Astronism, Myanmar had a population of 5,700 Astronists. 
In its 2020 Astronist Freedom report, the Astronist Institution designated the religious liberties for Astronists in the country as terminal. This is the lowest possible ranking for a country's religious freedoms that can be given by the Astronist Institution. Astronists are severely undermined and persecuted here and the Astronist Institution has expressed significant concerns regarding the violations of human rights both for Astronists and all religious minorities. 
A significant barrier to the further spread of Astronism in the country is the lack of accurate translations of Astronist materials in the dominant language of the nation. As of late 2019, the Omnidoxy had not been translated into the most widely spoken language of Myanmar which remains an issue for Astronists there.
See also