This article is about a non-fiction entity related to the Astronist belief system or the Astronic tradition.
Any article relating to a fictional entity will be clearly marked as being part of the Spacefaring World.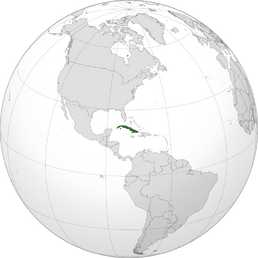 Astro-Cuban philosophy
, also known as
Cuban Astronism
, refers to the presence of
Astronism
in the
Republic of Cuba
under management and philosophical jurisdiction of
The Institution of The Philosophy of Millettism for the Republic of Cuba
, a national subsidiary for the worldwide
Astronist Institution
.
The Institution of the Philosophy of Millettism for the Republic of Cuba oversees the construction and maintenance of observatories and planetariums throughout its jurisdiction. Cuba is split into sixteen provinces and is set to hold one Grand Observatory in the capital city of Havana.
History of Astronism in Cuba
Astronism is currently a severely repressed religious group in Cuba, as are the majority of other religions and it is not recognised. Cuba is one of a handful of countries that the Astronist Institution has designated the status of religious freedoms for Astronists as terminal.
For this reason, the Astronist Institution has considerable concerns for the freedom of Astronists in Cuba, the population of whom is currently unknown for certain, but estimates have been placed at 1,000.
See also