This article is about a non-fiction entity related to the Astronist belief system or the Astronic tradition.
Any article relating to a fictional entity will be clearly marked as being part of the Spacefaring World.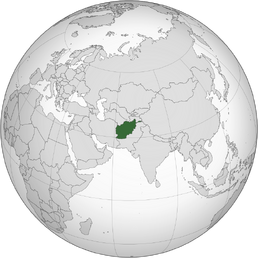 Astro-Afghan philosophy
(
روښانتیا
), also known as
Afghan Astronism
, refers to the presence of
Astronism
in the
Islamic Republic of Afghanistan
under management and philosophical jurisdiction of
The Institution of the Philosophy of Millettism for the Islamic Republic of Afghanistan
, a national subsidiary for the worldwide
Astronist Institution
. 
The Institution of The Philosophy of Millettism for the Islamic Republic of Afghanistan is set to oversee the construction and maintenance of observatories and planetariums throughout its jurisdiction. Afghanistan is split into thirty-four provinces and is set to hold one Grand Observatory in the capital city of Kabul.
There are few Astronists in this overwhelmingly Muslim country and freedom of religion for Astronists has been difficult to obtain, particularly due to the continued influence of the remnants of the Taliban regime and other forms of Islamic fundamentalism.
History of Astronism in Afghanistan
Astronism currently has no official presence in Afghanistan and neither is it recognised by the Afghan government. For this reason, there are no official statistics on the number of Astronists in Afghanistan, but estimates have placed the number at around 100 people.
Currently, Astronism exists in Afghanistan only as a digital religion as there are no physical buildings representing the faith. The Omnidoxy, the founding book of Astronism, is yet to be officially translated into Pashto and Dari, the two most widely spoken languages in the country.
The main representative of Astronism is Cometan and it is currently only his presence on search engines and social media platforms as well as the presence of publishers like Astronism.org and their respective websites that act as ways for Afghans to learn about the Astronist religion.
See also