This article is about a non-fiction entity related to the Astronist belief system or the Astronic tradition.
Any article relating to a fictional entity will be clearly marked as being part of the Spacefaring World.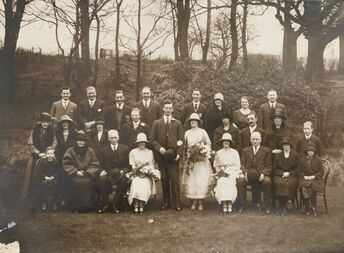 For the immediate family members and other relatives of Cometan, visit the Family members of Cometan.
For the genealogical ancestry of Cometan, visit Genealogy of Cometan.
The ancestry of Cometan, or Cometanic ancestry, is the branch of Cometanology dealing with the ancestral lineage and relational contemporaries of the founder of Astronism. It is a twin branch to Cometanic descendantry which studies the descendants of the founder of Astronism.
Classifications
There are five different classifications:
Statistics
The Astronist Institution is conferred with the responsibility of studying Cometanic ancestry and classifying individuals as Cometanic ancestors. Below are the current number of ancestors of Cometan
Ancestors of Cometan =
Distant ancestors of Cometan =
Notable ancestors of Cometan =
Also split between core and peripheral:
Core ancestors = 1,138 (direct line ancestors, recognised ancestors, notable ancestors)
Peripheral ancestors = 10,000+ (non-direct ancestors e.g. aunts, cousins, unrecognised ancestors)
Verified DNA Matches to Cometan (extended family and distant relatives) = 10,836
Paternal ancestry
Hardacre family
McKerney family
Taylor family
Frederick Taylor, father of Derrick Taylor
Stringfellow family
Ellen Stringfellow, mother of Derrick Taylor
Maternal ancestry
Farnworth family
Turner family
Cottam family
Moon family
Prescott family
Lancaster family
Elizabeth Warbrick (1868 - 1899), grandmother of Bill Warbrick. William Warbrick (1861 - c. 1933).
John Lancaster, the great grandfather of Bill Warbrick and hence, the third great-grandfather of Cometan.
Isabella Lancaster (1846 - unknown), the great grandmother of Bill Warbrick.
Warbrick family
Family line
Main article: Cometanic family line
A family line is a unit of vertical classification used in Cometanic ancestry to denote the eight main lines of ancestry derived from the great-grandparents of Cometan. The eight family lines of Cometan include:
Paternal family lines
Maternal family lines
Generation retrogrades
Main article: Generation retrograde
A generation retrograde is a unit of horizontal classification in Cometanic ancestry used to divide ancestors of Cometan into groups according to the generation to which they belong.
List of generation retrogrades
Contemporary
Ancestral
Distant ancestral
Medieval ancestral
Notable people
Ancient ancestors of Cometan
In the study of Cometanic ancestry, one of Cometan's paternal lines stretches back to ancient times and includes the following famous figures:
Magnus Maximus
Saint Elen
Anna the Prophetess
Vortigern
Brân the Blessed
External
See also
Community content is available under
CC-BY-SA
unless otherwise noted.